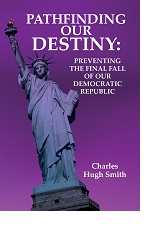 As a general rule, there are two paths to collapse: gradual erosion and sudden crash. The two are intertwined, of course; in most cases, the system slowly loses vigor, resources, efficiency, etc. (erosion) which leaves it so weakened that a crisis that would have easily been overcome in the past triggers a catastrophic decline of production and order.
My new book explores these system dynamics in the present: Pathfinding our Destiny: Preventing the Final Fall of Our Democratic Republic. As the title suggests, we've got a window to prevent the final descent, but it's years, not decades.
There are two basic drivers of systemic erosion, drivers that have little to do with leadership or policy. Our current delusion is that changing leaders and tweaking policies are enough to stave off systemic erosion, decline and collapse, but the two dynamics cannot be so easily thwarted.